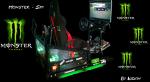 Hello everyone

I took a bit of time to build this other sim (about 3 months in his spare time)
after I sold the other (only sruttura and electronics) I have left the G27 the
seat and seat belts ... for other things I bought back again.
My new sim is more or less built the foundations of the old one as
the lower structure cooling system electronic engines ....
I used wiper motors once again and I have to say
despite the extra weight ... they do their job egreggiamente and after 2 hours
of the race I noticed that the engines are pretty cool !! this means
that the cooling system works very well ... clearly I
also had to balance well the total weight !!!
https://www.youtube.com/watch?v=S_mkQ1MNyvc
This time, I cared too much aesthetics and tried to take care of even the smallest details.
Adhesives and lighting special effects and so on. wanted them to my son who is
amused to attack them everywhere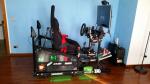 This time I installed the TV that moves with the upper structure
(Much better screen fixed) and the bracket adjustable in depth, height
I will modify the slope and then for a triple monitor.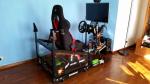 I used square tubular
60x60x3
40x40x3
30x30x3
25x25x3
and 20x20x3
Compared to before I used 2mm tube that is more robust.
I added a 5.1 audio system and subwoofer and placed under
and some good vibrations to the structure as well as a fantastic sound
I used cooling fans 120x120 1200 rpm for electronics
and fans 80x80 2000 rpm for cooling the engines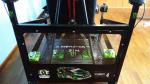 If you have any questions please reply as soon as you can
I'll reserve a post for upgrades that I'm going to add as every time I create something
The next upgrade include:
Sequential shift lever (already done)
Handbrake
Triple screen 22 inches or 24
Monitor 7-inch
Substitution of the seat and seat belts
Future upgrades for next summer (if I have time and money to spend) include:
4 DOF
replacement of
Adding a slide under the seat replacing the original binary engine
to simulate the acceleration and braking
Adding the motor to simulate the loss of grip + underlying structure
Video
https://www.youtube.com/watch?v=S_mkQ1MNyvc