Hello,
At first, my excuse for my bad English.
A couple of weeks ago i found some old pneumatic cylinders. For years I had the plan to build an motion simulator, so now the right time has become.
I started with building some universal point connections for the cilynder.
After that i made two excactly the same triangles. The sides of the triangles where the same length of an cylinder (in).
I couldn't find information about sizes for stewart platform so i was guessing this is the right idea. (I do not know yet)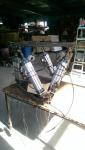 The idea for the potmeters was found on the internet. I saw a guy who was making it with some tape measures.
The picture shows concept one. There was a litte problem, i bought some potentiometers but the can turn around 300 degrees. This is 11cm with the cylinder, but the cylinder can reach 25cm. So i had to remake it with a bigger wheel and a rope. This is only for testing, if everything is okay i will buy some 10 turn potentiometers but the are to expensive for testing .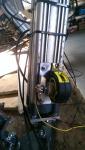 Because i use pressed air i needed something to split the air. First i thought i can use one air hose and use an three way splitter at each cylinder. but this was not working because the first cylinder gots more air.
I made a small splitter out of steel.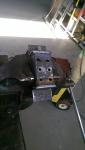 The used solenoids (wich i found too) are 24v. I wanted to use an arduino, so i figured out how to switch 24v with an arduino. I'm not very good with electronic but i solder something I thought it will work.. You see some different parts, that's because i ordered not enough online, so i bought the other parts at the local store.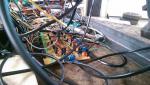 For programming the arduino i used the code in this post. But i rewrite it to 6 cylinders and made some other modifications because i do not use the motorcontroller (i don't know if this is okay)
http://x-sim.de/forum/viewtopic.php?t=943
Now i'm testing with the whole thing, there is only one problem. In and out is not a big problem but when i give the command to stay in the middle it is shaking up and down and can't find the right position. So i'm testing with some things like pressure.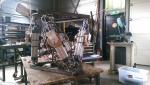 [YouTube]https://www.youtube.com/watch?v=oBdAX3x9LOw[/YouTube]