Hi everyone!
The improved version of my G-Seat is finally finished!
I call it the
Motion Integrated G-Seat
as it combines the strengths of a motion platform with those of a G-Seat and integrates them into one single system. It is thereby able to deliver an unprecedented sensation of intense, swiftly reversible and sustainable feeling of motion and acceleration in all axes.
Find out more about the seat on my website:
http://bergisons.simpit.info/motion-integrated-g-seat
.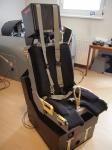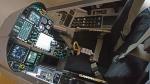 I also made two youtube videos with some explanations and the seat in action:
Video #1: Introduction
https://youtu.be/5muP32AlcIE
Video #2: Racing Cars
https://youtu.be/-y_vrOJbVZE
Enjoy, Bergison