We are happy about the circumstance that the programer of FSUIPC provides a free licence for his tool for freeware software which will use it. If you like to support his software visit his hompage and buy a single licence as a donation. With FSUIPC we are able to support most of the Micsoft flight simulators. This are FS98 up to FS2004, the FS Combat series, some of the FLY! versions and the new Flight Simulator X.
You are also able to use some of the cockpit gauge displays or you can buy the full FSUIPC and use the internal gauge system.
For the use with X-Sim2 the autor offers a free version which is included in the "/other stuff" directory or downloadable by his homepage.
Thanks to Peter at this point !

If you like to install FSUIPC you have to copy the FSUIPC.dll out of the "/other stuff" directory to the "modules" directory of your microsoft flightsimulator. If you use the new flight simulator X, you have to choose the newer version 4 and up, otherwise the lower version. Now your plugin should appear in the flight simulator software.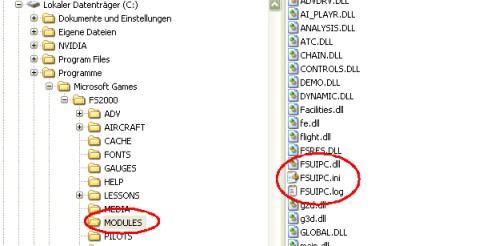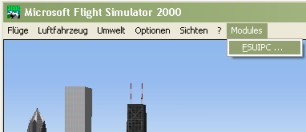 Now you are able to select the MSFlight plugin out of the force sender 2 list. There is a additionally plugin called MSFlightV2 which is able to export some user chosen values like described in the FSUIPC manual. This two plugins enable you the chance to export all needed effects out of the different flight simulators.