How a simulator control will work and which software part of X-Sim 3 will do it?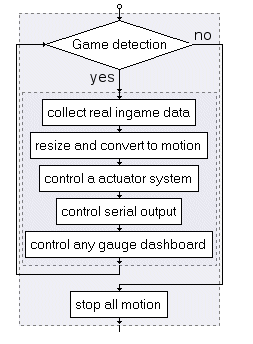 First a software is needed which will get the simulation game force values. Sometimes the game will only support native exports like speed or Microsoft DirectX Force Feedback signals. This values has to be captured and send to a control software. This part the X-Sim extractor will do with it's motion driver and tool software like graphic driver or memory driver. This software is the first one which is able to collect all the information parallel and is able to mix them to a simulator output. Normally only the lateral, longitudinal and vertical forces are used in a simulator, but now you can also mix special event's like curb detection in your output result.

After the values are collected, they are send as "raw" values with unknown size to the X-Sim converter which will resize and convert them to a minimum and maximum movement on a connected actuator system. This can be one axis of a 6DOF system or a simple fan which simulates the air speed of a car.
The second part of the converter is to transfer the results to a actuator system with serial RS232/RS485 port support or direct control a actuator hardware in realtime if the used interface is not a intelligent hardware which should has a input/output PID control.
The last part of the converter will control gauge dashboards with the values given by the game plugins which can be mounted to a simulator system.
The game detection will finally stop your simulator if you have finished your race or flight.